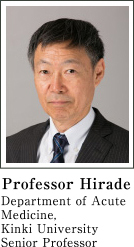 Welcome to the Resuscitation Spirits Together website!
The efforts of people on the scene to resuscitate them can play a huge role in saving the life of someone whose heart has suddenly stopped.
This website's greatest wish is that a culture develop in which if someone collapses, people who may all be complete strangers will rush to their aid, and work together as a team to do whatever they can to save their life until the paramedics arrive.
This is not just a website about calling people to action, however.
Using recent data and actual stories from resuscitation survivors and their families, we also aim to give people a much clearer picture about what happens when someone has a heart attack outside hospital.
We hope it's a website you will come to love.
Atsushi Hirade's profile
Senior Professor and Chaiman at the Department of Acute Medicine, Kinki University
Over the course of many years, Professor Hirade treated many emergency patients at the Critical Care Medical Center.
He then became a general physician.
In recent years, he has been working in ER.
Learning how to resuscitate someone is not just something medical students and doctors need to do. It is something which should be learned by a wide range of people. This is the very essence of that new learning.